The Definitive Guide to Picking the Correct Sticker Paper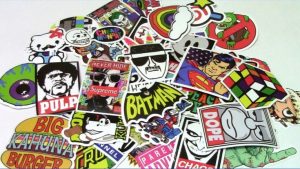 For a fabulous sticker, you need more than just a good design. A big part of an excellent sticker is the materials you use. These usually make or break your sticker. So how do you pick the correct one for your needs? Stay tuned to find out.
Step #1 – What Sticker Are You Going To Make?
The first step to choosing your material is by clearly defining what sticker you are going to make. This will help you understand what is needed for your sticker.
For example, a laptop sticker doesn't really need to be waterproof. You won't be dumping your computer to water or working in the rain.
But a sticker for your bike helmet is another thing. This needs to be more than waterproof. For example, you're going to need it to be scratchproof as well.
So, define what sticker you're going to make before you continue with the next step.
Step #2 – Paper Vs. Vinyl
When picking the correct sticker paper, you're choosing between two types: vinyl or paper? Each one is good for their own reasons:
Paper – is a good pick because of its finish. It looks great and is more environmentally friendly. However, where they fall short is with their longevity. They aren't weatherproof and won't last for long.
Vinyl – is excellent for many reasons. First, it's great for longevity, as it's both weather- and scratchproof. It also is effortless to maintain.
So, which one should you pick? Well, that depends on what sticker you're making. For example, when you're making a laptop sticker, you can use paper. But when making helmet stickers use vinyl.
Step #3 – Any other requirements?
And now all you need to do is ask if you need anything else. For example, you might want your laptop sticker to be UV-resistant so it won't lose its color so fast. Or, when making a hard top sticker, try to find something with a strong adhesive that is waterproof.
Conclusion
And that's how you pick the correct sticker paper. If you're ready to print your stickers, then I highly recommend you to check out Stickerapp. They print your stickers for a very reasonable price. You can order here!